Thinking Digital 2023 - Workshop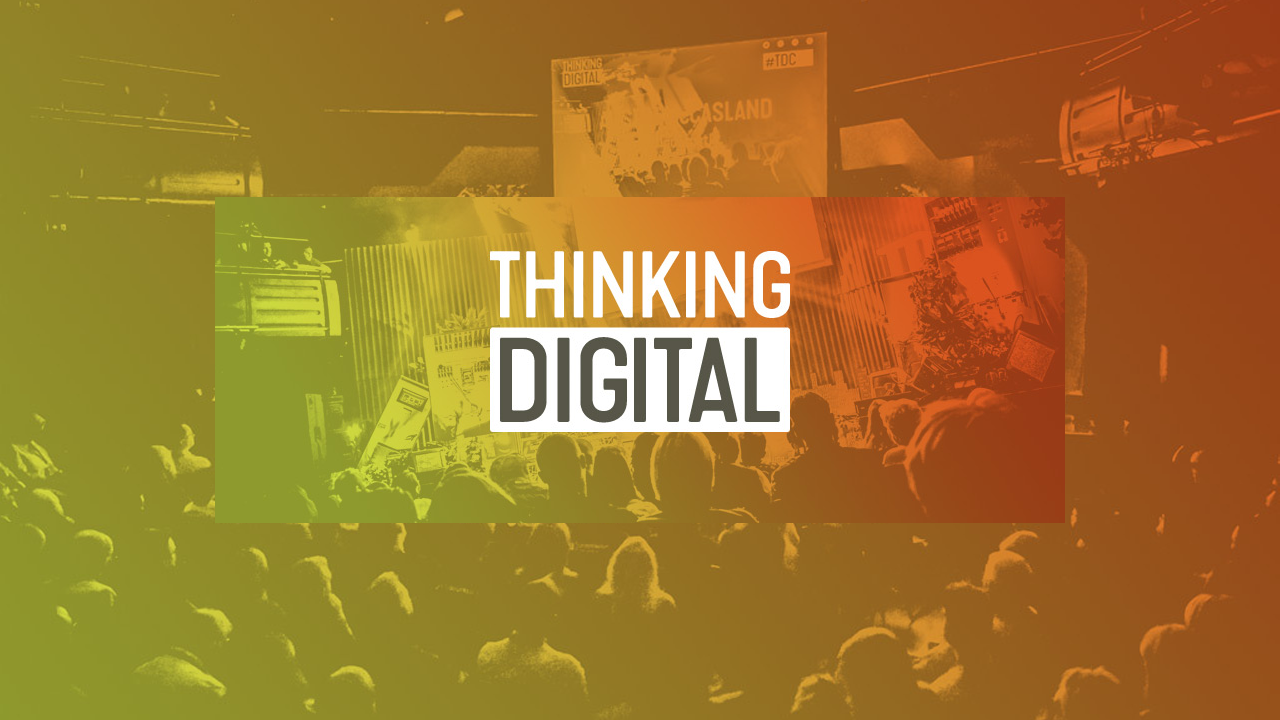 10th Annual Start-Up Competition
Herb Kim mentioned there is a great bunch of eleven startups to judge and started Thinking Digital this year with the 10th Annual Start-Up Competition. Julia Wedgwood talked about TusPark which was hosting the workshop and wished those here good luck. Herb started by thanking those there, and it is thanks to the sponsors that this is being held at all which includes two passes to this and next year's Thinking Digital competition. Herb thanked the headline sponsor of Gateshead College along with Mincoffs Solicitors along with Kick Cards and Preseed Now who are also supporting the competition this year. Four startups will pitch at a time with options for questions with breaks in between, then there will be a vote at the end to pick the audience's favourite and the judges will go to the kitchen to make their choices.
The judges are Deni Chambers who is a director at Gateshead College, Joanna Montgomery from Little Riot, Martin Bryant founder of Pre Seeds and Luke Philpott from Mincoffs Solicitors. Deni said they partner with entrepreneurs and invest in skills and in people. Jo talked about making tech that connects with people such as parents with kids when they can't be with them, and the business is thirteen years old. Martin is the founder of a newsletter called Preseed Now about start-ups at an early stage from across the UK. Luke is a partner at Mincoffs and helps companies at the start with terms and conditions and more. James Rutherford is also supporting the event with Kick Cards which helps provoke questions and has one specifically for startups and the finalists along with one for the audience.
Jamie Hardisty is the host of the competition this year, they are head at comms and Sunderland Software City, they support and promote growth of North East tech sector. They said they were pleased to be among friendly faces and to get to know some startups, they have been involved for around 10 years as a tech journalist. They have always felt about the tech sector in the North East is how close knit we are and know many of the people at the workshop, startups are important to the tech economy with eleven pitches during the workshop today.
XR Therapeutics
Billy Webber talked about in the UK today there are eighteen million people who suffer from a phobia or anxiety. You can get one-to-one support which takes six months then support lasts for three months with a 50% success rate. They think this should be more efficcient and more effective, they are super charging treatment and take this to one week, instead of just talking about it, it is put front-and-centre using augmented reality. Currently working with a few NHS trusts and want to exopand this throughout the UK and in the US, They are the only ones in the market working with neurodiverse people, with just 5% of market would get £6 million turnover. They are looking to raise £1.5 million and already have 50% of this and want to supercharge treatment and change people's lives.
Vibbl
Nihad Cehic talked about reducing the teacher workload, 50% of teachers want to quit the profession by 2027. By using Vibbl teachers can snap feedback or give verbal feedback on their phones, and it is 7x faster than written marking and verbal feedback is also more effective. How do you know if students have responded to feedback but also can get feedback to anyone who needs it. They launched in February and are in 75 schools across 18 countries with 667 users, it is not just a commercial decision to improve learning. When teachers are snapping feedback and reporting verbal feedback are using AI to summarise this info and are wanting to raise £375,000.
The Smart Container Company
Eduardo Garcia talked about tracking keg containers with 50% of beer transported using kegs and these are re-used and have an IoT device that connects the keg to the internet and has volume, location, temperature and motion they measure the volume using signal processing and machine learning to know what is inside the container. They have an intelligence platform with real-time insights for the best decision making, they know what people are drinking and when they are drinking it and can have better pickups and better deliveries along with optimisation and sustainability. They also have software for breweries and keg owners and have an existing pipeline with the big brewers but potential customers could be distributors, hospitality and even consumers. Tech can also be used to track other things such as oxygen or propane and are seeking £750,000 to fund small scale trails.
The Climbing Clan
Tim Dobson talked about experience of friends who went climbing together and one had said when were women allowed to be members and made other sexist comments and nothing was said about that. 1.3 million people participate in climbing and a lot of those groups who do this have struggled to keep up with the times. Park run has used technology to scale getting into running for those who wouldn't do it otherwise. The Climbing Clan is a group to encourage people to climb and eat cake and sometimes both, over 600 people have attended their events with over 200 paying members with a £50,000 per year income and are sustainable and fastest growing climbing group in the UK and are helping people develop their skills so they can pass those skills on to others and help make climbing accessible to all, they have helped introduce their mum and grandma to climbing and helped her set a Guinness World Record.
Judges Questions - XR Therapeutics, Vibbl, The Smart Container Company & The Climbing Clan
What sets them apart from their competitors? Tim spoke is making climbing accessible to anyone, Nihad spoke about speed and saving time and nothing does this in the same way, Billy also said speed for them with one week of treatment rather than months, Eduardo has most dynamic data available for reporting and no one else can measure how much liquid is inside the container.
Luke spoke to Billy who mentioned they are about to launch a remote therapy option. Martin asked Billy about the treatment which is based on CBT and is a step-by-step approach using visuals alongside the therapy. Jo spoke to Nihad what their go to market strategy is which is to create good quality content and in the practice of giving good feedback and have done webinars with school leaders all over the world on how to give good feedback - it is not just about speeding up feedback but is about giving good feedback and reduce teaching workload. Deni asked Eduardo for liquids for high value such as millions of pounds worth, there are high risk ones such as sulphuric acid along with high-volume assets which don't cost a lot but there is a lot of it and a small improvement in that industry will give an improvement and next step will be something high value in medical. Jamie asked Tim about scaling their business to other cities beyond Newcastle and will get their city startup process nailed in order to do this.
Sugarcoat
Jonathan Butler spoke about Sugarcoat, the future of commercial is social, average user interacts with seven social platforms and will represent a third of all online spend. Selling multi-channel is difficult, social platforms have to share more of the platform together and selling through social is difficult where are pushed through to website with same info and a long checkout process. They turn a social media page to a social media store with a socially optimised checkout experience, quicker, easier and cheaper than before without a website and lowest transaction fees. Their vision is to build the future of commerce and are first solving problems in social and in future such as web, wearables, metaverse and more.
StanLab
Job Oyebisi talked about StanLab where schools deliver remote / hybrid learning for science practicals, problem with practical class is the cost of the lab but remote students couldn't do practicals so they allow students to be able to set up a lab before a class, with everything taken care of. The teacher sets up the lab and the student receives them and completes them. They have AI enabled assistance to reduce time for teachers and their solution has been used to teach over 100,000 students and want to build the future of education.
Nanovery
Jurek Kozyra spoke about building nano robots to tackle the world's deadliest diseases, spoke about an example from Battlestar Galactica where a test could be simple and accurate and easy to use. They have build a platform for DNA and RNA bio market detection, a sample of blood will be exposed to the nano robots which will bind to these which will attach a biomarker, everything is made from synthetic DNA and have an AI system which allows them to adapt to different biomarkers and domains, they are focusing on micro-RNA applications and is worth $1 billion but will triple in the next three years. Micro-RNA detection takes three days but with their process has only two steps and takes a few hours and includes simple amplification and is robust and enzyme free.
Insightano
Hannah Underwood spoke about data tools for the social impact, they gave a TED talk about the issue of measuring social impact. There is so little access to data skills and data is often siloed and potential of open data is untapped. They have built a no-code data visualisation platform where they can contextualise it with open data, and understand how to create impact, make decisions and make improvements. A couple of organisations are committing to their platform, but they want to expand their platform to corporates and put learning at the heart and change the lives of people in need and create a learning revolution.
Judges Questions - Sugarcoat, StanLab, Nanovery & Insightano
Jo asked Job about who pays for the kits, it is a software as a solution that the schools pay which is £1000 per 100 students but are trying to reduce amount of time to set up lab. Deni asked Jonathan about how to provide customer confidence by having validation of the merchants and qualitive checks and checking credentials and are bootstrapped into Stripe using their checks and accountability before they are able to sell on the platform. Martin asked Hannah what a customer would put in and get, Greggs has a breakfast club about how many people attend and what is donated, but don't know what difference it makes to attendance and lateness of students and to source the data from other places and can pull this together and provide them with insights and can also help them know where are places with highest deprivation and lowest take-up of school meals. Luke asked Jurek about who they are working with which includes clinicians from Edinburgh as a proof-of-concept study along with the Centre for Cancer in Newcastle and work with companies who are doing pre-clinical tests but is a long route for diagnostics but as they get more commercial traction, they can deploy more solutions.
Hey! Food is Ready
Yuru Guo and Frankie Docker spoke about what food to get at events as would just be crisps and drinks so decided to create passionate home cooks to cater for corporate events with a platform to order authentic culturally inspired meals for events. Support food cultures from minority cultures and food from all around the world and connect to the local community, brining culture and community together and they have 65 cooks and 25 clients and cater for a variety of clients including Google, Vogue and have 50% reoccurring orders with over 1000 plates sold. They charge 15% commission fees and offer corporate participation.
Floe
Hamish Rutherford spoke about Floe, which is a co-working space. The pandemic has changed how people work and many work from home and causes problem of empty offices that no-one knows what to do with them, lack of community support is causing drop in productivity. They bring together people who want to work in a shared office space, with co-working as a service, bringing together like minded people. It is about community, support and collaboration including 1-to-1 meetings, member directories and can seamlessly book secure access to their locations and connect to community when they need them and landlords can connect their underutilised space with the platform. They opened their first space upstairs from the workshop and have over 27 businesses, 134 members and 500 users with 0% churn rate. Combine experience property management and tech and allow people to be connected with spaces if need to find a place or share a space.
Choppity
Zara Paul spoke about Choppity which is an AI video editor, bhuinesses increasingly ned to post more content including tutorials and demos and need to edit a lot of video but this is slow and expensive to hire a freelancer, but if do it yourself and is also slow and difficult and often need a seoperate tool. Choppity automates all those sub-tasks for you, you upload the video and it performs these with AI and can optionally tweak this. You can upload a video for Tik Tok and then it will perform the sub tasks and produce a set of Tik Toks ready to be posted. They have a goss margin of 70% and have their first B2B client is being negotiated and are opening a seed round which will be larger than £500,000 with two very technical cofounders and are wanting to fix video editing.
Judges Questions - Hey! Food is Ready, Floe & Choppity
Martin asked Zara about staying ahead and competing in such a fierce marketplace, going to market is their biggest challenge but they have had a lot of organic growth as no-one is serving the market particularly well and will be using with educating podcasters and influences. Deni asked about how Hamish do their pricing, their pricing point is good and there is room to increase this but they don't want to increase it as their aim is small companies and startups and don't want to be more expensive and have a more corporate model. Jo asked Frankie and Yuru about the food hygiene which is their top priority, and all suppliers have to have 5-star food hygiene though local council, training along with being insured for any risk and can ask questions where needed. Luke asked Hamish what sectors they served but they have a range including sustainable charities, accountancy start-ups and is a 6-10 person office, they don't just do one industry and the mindset is if early or rapid growth and focus on different mindsets of businesses.
Jamie asked about any problems or obstacles they have faced Frankie and Yuru mentioned about the competition in the space and people building something similar, but their value is the community and working with refugee organisations and help people who love cooking to sell their food and with repeat orders and referrals and have a close connection with their cooks and harness networking. Hamish mentioned the heart of Floe is the community, it is focusing on you can't create a community, but you can create a space where community grows and have a human connection. Zara mentioned their biggest challenge is being heard in a very crowded space where they sit in the middle where don't offer as much flexibility as traditional software but offer features that companies can use and use AI to assist with this and get this across with their marketing.
A Year later - the 2022 finalists - Chris Nutman and Dom Hodgson
Chris Nutham founded Global Teacher which was a university project to tackle access to education with an offline learning kit to access the best in digital education and entered the Thinking Digital Startup Competition last year and they won. Dom Hodgson has a company called Dress Circle which is IMDB for Theatre and came second in the Thinking Digital Startup Competition last year and are based in Leeds. Chris moved into their first home and with the charity is working on product development and have been doing this since 2017 and been working on it since then. Dom talked about his product where people wanted to know what people were at what show, they have 1000 visitors and have actors and theatres who want to update their information, it is an interesting thing running a content website especially with LLMs.
Jamie asked how they prove their model and Dom mentioned theirs is an affiliate model with theatre tickets and look at how many they sell but they get 1% of those and also have a mailing list and have a data play where they can look at what tours are selling well so have producers who want to look at this and they are looking at ways of gathering this data. Chris mentioned they have a group of companies they can sell to, they have a lot of demand from classrooms who are off grid, but the more difficult fit has been selling to corporates and make sure the kits align to their requirements and can have metrics and companies can sponsor kits and have many of these shipped out, along with other initiatives but have had tenuous early links.
Jamie asked Dom about pitching and being motivated, and he would have been worried about being compared to those talking today, starting is tough and there is just him and his wife and have bills to pay with no other side job to go to but just have to try other ideas, it will always move around. Jamie also asked Chris about how you keep motivated, can often cling on to ideas and wanted to get one unit in one class, they got carried away creating a startup like what everyone else did, but realised they wanted to create their own work-life balance and create it with your own fingerprint and footprint.
Jamie asked how you can take a step back and celebrate wins and look after mental health and wellbeing. Dom mentioned this can be tough and there are points you would like a boss and someone you would like to ask what to do, it is something that hit them a lot, they would get their to do list and work through a few of them at a time and anything else is a bonus, they have weekly Zoom chats with people in similar positions and know someone is there in that journey with them, can go quiet a while before having a celebration, start celebrating the small wins. Jamie asked Chris about his journey and celebrating wins and mental health and he mentioned is important to focus on this and learn balance to not work too much and learn valuable lessons, developing the product was a race to get to the end but this seemed to move at a pace on its own and needed to just let it evolve on its own and enjoy it, the harmony of the whole journey itself and cannot continue at the pace they are and not spending time doing other things.
Jamie asked how they can work with other founders. Dom mentioned he is quite lucky and loves going to events like this, goes to events full of developers even if things they didn't understand led to other opportunities, take opportunities including at the conference, you might have conversations and connections that you never know might be the best opportunity, may be doing different things you are not competing with each other and will be doing many of the same things like getting customers. Chris mentioned was able to share experiences with other founders and know someone else is going through it and people are doing things that are very similar.
Nihad mentioned that Chris introduced him to his first dev who built the MVP for Vibbl. Sam from Northumbria University asked about what the North East is missing or what is it good at and Chris mentioned their experience was as a startup non-profit and isolating feeling is have a lot of accelerators and incubators who focus on high growth businesses but need one for their kind of industry and are talking to people about this gap in building this kind of business as it is not equity driven but there is a huge market for it. Jamie asked about Dom's impression of North East and that it is similar to Leeds, these are tailored to those who can dedicate their whole life to it but not to those with families and there are those in the US that you can participate with online and it isn't always possible to dedicate your entire life to something.
Dom and Chris were asked about challenging moments they were willing to share about. Dom mentioned with Dress Circle you need 50,000 unique visitors and placed some advertising code that meant that Google was un-indexing their website without them realising this, were able to back track this as much as possible, what happened in a month took three months to recover from. Dom also spoke about their other company and when Covid happened they were bullet proof as they monitored stuff and lost 80% of their customers in one week and still haven't fully recovered, but you just need to know what the change is that happened and how to adapt. Chris talked about often appearing to seem like all doom-and-gloom but have been open and honest about these moments, there are ups and downs but there will be positive impacts in their life but need to learn balance too.
Results
Hey Food is Ready! was voted for by the audience for Highly Commended along with Choppity. The two winners this year for 2023 are Nanovery and The Smart Container Company. Martin mentioned has judged lots of Startup competitions, but this was tough and felt weight on their shoulders and really debated amongst the judges who should win.